"TURNS YOUR IDEAS INTO GREAT PRODUCTS" ---AUSMETICS
Ausmetics' customers
cover 30+ countries
Ausmetics serve
300+ brands
More than10,000,000+ people
have used our products.
Kmart opened Australia's first discount department store in Burwood, Victoria in 1969. It was the beginning of a proud Aussie icon that has revolutionised the way Australians and New Zealanders shop. Today, Kmart has more than 200 stores across Australia and New Zealand and is recognised as one of the most profitable discount department stores in Australia. Kmart employ approximately 30,000 team members who mainly work in their retail stores. Kmart national office is based in Mulgrave, Victoria and is home to around 800 team members. For fiscal year 2020-2021, Kmart Australia reported AU$9.982 billion with a growth of 8.3% from the previous year.
Mannings is Hong Kong's largest health and beauty products chain store, with more than 350 outlets throughout the territory, providing a wide range of quality health care, personal care, skin care and baby products to a broad spectrum of consumers. It has also been proactively providing innovative services and leading the industry to serve the needs of health and beauty for the general public. Mannings has been awarded by the Hong Kong Retail Management Association's through their Mystery Shopper Program as the ""Best Service Retailer"" for six consecutive years. Mannings has also been voted as the "No.1 Customers' Favorite Brand"" in a customer's telephone survey conducted by Ipsos for 14 consecutive years (2004 to 2017).
Guardian is Malaysia's leading health, beauty and personal care chain, trusted by consumers for high quality products at affordable prices. A trust that has been earned over five decades of service and commitment to our customers, starting from the first 200 square feet of retail space we occupied at The Weld, Kuala Lumpur 54 years ago. Today, we operate close to 500 stores at high streets, popular shopping malls, as well as in the e-commerce space. We serve an average of 33 million customers a month, who recognise us for our unrivalled variety of quality pharmaceutical, health and beauty products, many of which are exclusive.
S. C. Johnson) is an American multinational, privately held manufacturer of household cleaning supplies and other consumer chemicals based in Racine, Wisconsin. In 2017, S. C. Johnson employed approximately 13,000 people and had estimated sales of $10 billion.
supermarket clients needs
high demand for customization
Competitiveness Quotation
strict delivery requirements
Ausmetics Bussiness Development Team has long history of experience to serve customers around the Globe. "Turns ideas into great products" is what we believe to strive for long term success. We provide excellent customer support services to cater for customer needs and developing strategies. Our service include: packaging, formulation, design, manufacturing, and delivery.
With consideration of consumer trends and marketability, concept formulation and product planning, Ausmetics Group can enrich the product development process and provide knowledge and expertise on best practices, timing and delivery; the most advanced formulations and ingredients insights; and also samples for clients to conduct real-time first-hand trials in the manufacturing environment.
The production process of cosmetics in Ausmetics include 15 steps. We adopt an effective GMPC quality assurance system to monitor and manage the warehousing, R&D, production and delivery through the ERP system. The production philosophy that Ausmetics often emphasizes is: serious. Careful attention to every detail can ensure that product quality is guaranteed and improve production efficiency, reduce unnecessary time and material waste, and produce high-quality skincare products for customers who need cosmetics processing quickly, efficiently and economically.
IKEA is a Swedish-founded, Dutch-headquartered multinational conglomerate that designs and sells ready-to-assemble furniture, kitchen appliances and home accessories, among other goods and home services. Started in Sweden in 1943 by 17-year-old Ingvar Kamprad, IKEA has been the world's largest furniture retailer since 2008. As of March 2021, there are 422 IKEA stores operating in 50 countries and in fiscal year 2018, €38.8 billion (US$44.6 billion) worth of IKEA goods were sold. The IKEA website contains about 12,000 products and there were over 2.1 billion visitors to IKEA's websites in the year from September 2015 to August 2016.
H&M is a Swedish multinational clothing company headquartered in Stockholm. As of November 2019, H&M operates in 74 countries with over 5,000 stores under the various company brands, with 126,000 full-time equivalent positions. It is the second-largest global clothing retailer, behind Spain-based Inditex (parent company of Zara)
high demand for
customization
High quality
requirements
Ausmetics has been engaged in custom production since 1998. We have experienced doctors, masters, undergraduates, etc., to form a research and development team. At the same time, with Dr Jadir, who has worked at Johnson & Johnson, we are committed to the innovation, research, development, safety evaluation and quality control of cosmetics and their active ingredients, quickly providing strong technical support to customers and timely launching domestic and foreign trends and markets. Guide products to create excellent products for customers.
Dr. Phillip Cronk-CEO of Terrapharma Australia
Graduated and obtained his PhD degree from the University of New South Wales, Australia Lead the development of Johnson & Johnson's baby and personal care products, Skin Doctor series, Clarins sunscreen, Galderma Cetaphil products, and ULTRACEUTICALS' full range of cosmeceutical products He is the chief formula expert of Ausmetics
Dr. Jadir Nunes-Chief Technology Officer of Ausmetics
Faculdade de Tecnologia Oswaldo Cruz (FATEC) cosmetic technology course instructor and professor of cosmetology, PhD in Pharmaceutical Science/Cosmetology, University of São Paulo. More than 35 years of a professional career in pharmaceutical and cosmetics companies, including 14 years at Johnson & Johnson and 5 years at GSK Glaxo, dedicated to the innovation, research, development, safety and efficacy evaluation, and quality control of cosmetics and its active ingredients; He has been a member of the Board of Directors of the Brazilian Beauty Association (ABC) since 2000, and was the president of the organization from 2005 to 2009; since 2008, he has been the representative of the International Association of Cosmetic Chemistry (IFSCC) and the chairman of the Federation (IFSCC) from 2013 to 2014.
Ausmetics Quality Inspection Center has 4 laboratories: 1 microbiology laboratory, 1 physical and chemical laboratory, 1 QA laboratory, and 1 microbiological challenge laboratory.
The microbiology laboratory and the physical and chemical laboratory are responsible for the daily inspection items of the production base. These items include pH, viscosity, moisture, relative density, specific gravity, heat and cold tolerance, centrifugal test, electrical conductivity, bacterial colony, mold, and yeast, etc.
QA laboratory is mainly responsible for the related tests of packaging materials: mainly including yellowing resistance test, compatibility test, adhesion test, a mechanical test of related parts, leak test, compatibility test, specification test, application of laws and regulations, etc.
The microbiological challenge laboratory is mainly responsible for testing the antiseptic efficacy of new product formulations. The products are transplanted into the cosmetic sample solution after a variety of pathogenic bacteria and their mixed strains are transplanted into the cosmetic sample solution for a culture test, and the antiseptic ability of the cosmetics is evaluated by comparing the identification data. Evaluate the anti-risk ability of cosmetics against microbial contamination.
In the production process of Ausmetics products, each step is managed and inspected by detailed SOP, including raw material/packaging material incoming inspection, semi-finished product inspection, process inspection, finished product microbiological inspection, and final finished product inspection.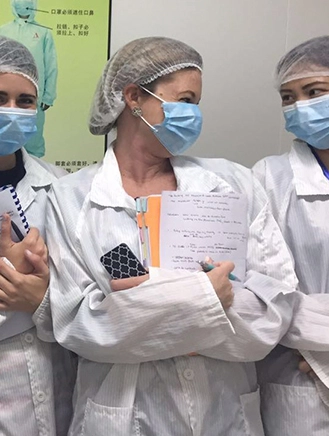 E-commerce customers have a certain number of followers, and they know exactly what their customers want. A brand is to build a relationship with people, and it is human. The responsibility of a brand is to export a good experience and build a good relationship for the society. The core of a brand lies in the meaning of its existence. To be a brand is to explore yourself. Don't just think of branding as a job, but be someone who has a real passion for brands and speaks out about their brands. Now there are too many products in the world, and people have no shortage of products and services, so why have brands? Often people feel like "I have a strong empathy with a certain brand, it has a role in my life, and I feel it makes sense.
high demand for
customization
Competitiveness
Quotation
Ausmetics have 6000+ formulas and produce 80 million+ products per year. We can quickly help clients to solve product-related problems. It allows our clients to spend more time on brand building and establishing their sales channels.
Ausmetics cooperates with internationally renowned raw material and flavour companies, such as BASF, Symrise, DOW, DSM, Seppic, AkzoNobel, IFF, Givaudan, etc. At the same time, we carry out strict safety control on all raw materials imported from European countries, the United Kingdom, the United States, Japan, Australia, Spain, West Africa and other regions; all raw materials are equipped with MSDS (Material Safety Data Sheet Material Safety Certification) COA (Component Analysis) and various inspection reports.
Ausmetics regards environmental protection as an important part of the company's sustainable development strategy and is determined to fulfill the company's environmental protection responsibilities. We have always adhered to the service tenet of "Turn your ideas into great products", and have heavily invested in environmental protection. Ausmetics can provide 100% vegetarian formula. We strive for ingredient transparency and offer formula that is parabens free, sulphate free, silicone-free, SLS &SLES free, non-toxic and palm oil free. In terms of packaging materials, we can provide 100% biodegradable packaging and packaging containing PCR environmentally friendly materials. At the same time, we have also established a complete set of wastewater treatment facilities to efficiently process wastewater through physical degradation and biodegradation.